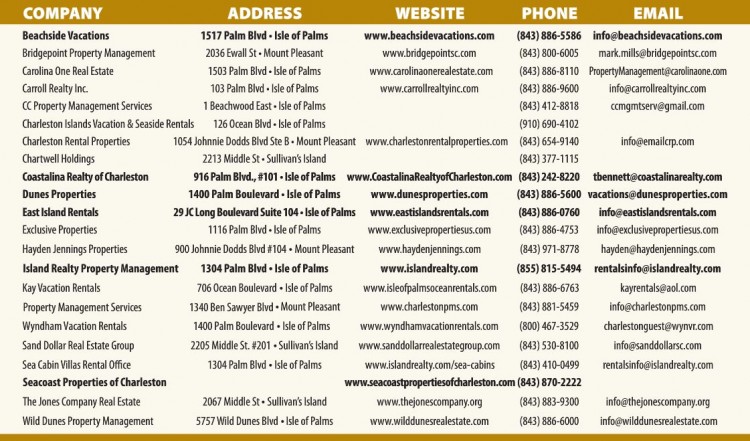 View Property Management Directory as PDF
BEACHSIDE VACATIONS
family-owned beach vacation rental company offering exceptional service to our property owner partners where bigger is not better – better is better. Vacation homes and condominiums ranging from one to 10 bedrooms featured on the beaches and waterways of Isle of Palms, Sullivan's Island and Wild Dunes Resort.
1517 Palm Blvd • Isle of Palms
www.beachsidevacations.com
(843) 886-5586
info@beachsidevacations.com
COASTALINA REALTY OF CHARLESTON
"Along with very professional services, we formed an unexpected friendship with Nancy"
• Jill, IOP owner
"After trying several other companies on the island, we finally found our home with Coastalina."
• Kim, N.C.
916 Palm Blvd., #101 • Isle of Palms
www.CoastalinaRealtyofCharleston.com
(843) 242-8220
tbennett@coastalinarealty.com
EAST ISLAND RENTALS
For more than a decade, East Islands Rentals has specialized in providing full-service property management for luxury property owners on Isle of Palms.We take great pride in our approach to exclusivity and customer service.If you own a high-end property and would like to enjoy stress-free, income generating ownership, we can help.
29 JC Long Boulevard Suite 104 • Isle of Palms
www.eastislandsrentals.com
(843) 886-0760
info@eastislandsrentals.com
ISLAND REALTY
Family owned and operated since 1977, Island Realty provides quality property services to exceed the expectations of guests and owners through a diverse portfolio of vacation rentals on Isle of Palms, Wild Dunes, Sullivan's Island and Mount Pleasant.
1304 Palm Blvd • Isle of Palms
www.islandrealty.com
(855) 815-5494
rentalsinfo@islandrealty.com
SEACOAST PROPERTIES
Seacoast Properties of Charleston offers lower commission rates, up-to-date reports, aggressive year-round booking and an excellent team of service providers. Seacoast is currently celebrating its 10th year serving its clients on Isle of Palms.
www.seacoastpropertiesofcharleston.com
(843) 870-2222