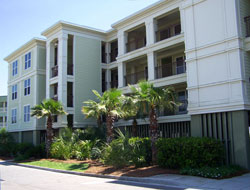 If you fantasize about waking up each morning to the soothing sound of ocean waves tickling the sandy shore, you have several options that will bring those dreams to reality on the Isle of Palms, a peaceful barrier island just east of Charleston, South Carolina.
Four condominium complexes face the Atlantic Ocean along the island's popular Front Beach area. In addition to the comforting sound of water meeting sand, they also offer a treat of the visual variety, magnificent views of the beach, the ocean and ships large and small coming and going from the busy port of Charleston.
All four condominium complexes are within walking distance of the island's shops and restaurants and an easy drive to historic Charleston, bustling Mount Pleasant and a seemingly endless array of highly-rated golf courses.
Each of the four complexes was designed to provide the best possible ocean views from both the living area and the master bedroom.
Leaving the Isle of Palms Connector, the first condo complex you'll find is 1140 Ocean Blvd., three- and four-bedroom villas ranging from 1,500 to 1,975 square feet. The three-story, 24-unit building, completed in July 2000, offers a swimming pool, covered parking, an elevator, private balconies and a boardwalk to the beach. Units sell for $1.1 million to $1.4 million.
The Oceanview Villas, at 1116 Ocean Blvd., provide many of the same advantages of island living: an open design, panoramic views of the Atlantic, a pool, an elevator, covered off-street parking and your own private balcony. There are only six one- to three-bedroom units, ranging from 840 to 1,600 square feet. The villas sell for between $700,000 and $1.3 million.
Ocean Palms Villas, at 1010 Ocean Blvd., is a nine-unit complex built in 2004. Four-bedroom, four-bath and five-bedroom, five-bath condos range from 1,990 to 2,536 square feet and sell for $1.5 million to $2 million. The complex has a gated security entrance, a pool, an elevator and extra storage space, and each villa features a large ocean-front deck.
A short walk down the beach will take you to Dunescape, at 1000 Ocean Blvd. The complex, which includes nine three-bedroom units, some with three bathrooms and some with two-and-a-half, was completed in 2003. Like the other condo complexes on Front Beach, Dunescape was built with magnificent ocean views in mind. Covered parking is provided, along with a pool, an elevator, additional storage space and private balconies. Dunescape condos are selling for $1.2 million to $1.5 million.
By Brian Sherman
---