"It's not easy being Green"
–Kermit the Frog
Kermit was only 15 years old when he recorded those words in the song of the same name. (He's now 52 in human years). And although he himself was the focus of his lament after all, he is a frog his message has taken on a universal truth, at least in the construction business.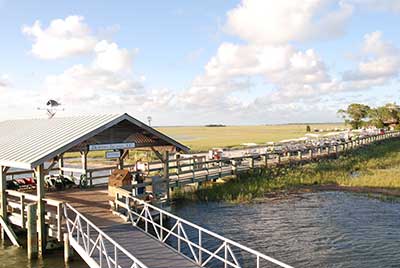 It's not easy being truly green, and doing it right isn't inexpensive, especially in the tricky business of high-quality residential construction. But the end result almost invariably justifies the additional care, time and expense that go into creating an ecologically sound home.
That's what master builder John Porretto believes. His company, Sustainable Building Solutions, created the stunning "green" home at 250 Old House Lane on Dewees Island, a pristine barrier island northeast of Charleston, South Carolina, that is accessible only by ferry from the Isle of Palms.
Porretto spent nearly four decades as a senior executive in the health care industry, a career he capped by ensuring that the Houston School of Nursing be built to the highest standards of ecological construction. The end result of his work with the school's board of trustees was a nearly 200,000-square-foot facility that has been good not only for the environment but for the institution's bottom line.
"There are Casablanca ceiling fans throughout, the high-volume air conditioning is geothermal and all appliances and plumbing fixtures are selected for their high energy efficiency."
Porretto left academia but retained his dedication to the environment, applying the principles he learned in Houston to the multi-million-dollar residential construction industry. Still based in Texas, Sustainable Building Solutions' philosophy in both large-scale and home construction is identical.
"The investment in building, the first costs, pale in comparison to lifetime costs of ongoing maintenance and operation," Porretto says. "That is irrefutable."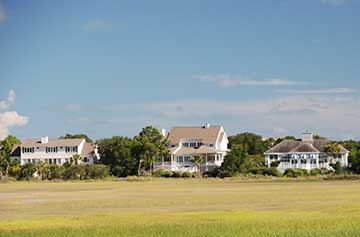 Put even more simply, if you do it right the first time, you will save money in the long run, a philosophy that is especially applicable to green construction.
Porretto fell in love with Dewees Island the moment he saw it, calling it "a special island paradise, unsullied by common progress, exquisitely subtle in its development— a place where life is slower paced and naturally rather than artificially beautiful."
He recognized Dewees as "a barrier island that protects the South Carolina coast from severe storms and offers a refuge for plants and animals. The developers and residents of Dewees Island respect and preserve these natural principles. Here, the harmony between man and Nature is striking."
Porretto decided that Dewees was where he and his family would build their vacation home, one day to become their full-time residence, and that the island was where he wanted to build high-end, green homes for others.
A shining example of Porretto's commitment to making the world a greener place is the unique residence at 250 Old House Lane, which is currently offered at $2,725,000. The timber-framed home with wraparound vistas of marsh and the Intracoastal Waterway meets all of Sustainable Building Solutions' green criteria, offering healthy indoor air quality, superior energy efficiency, low-maintenance durability, earth-friendly construction, a high return on investment and a sense of community.
The 3,700-square-foot home's heirloom-quality materials and design and construction create a strong, enduring and efficient structure engineered to withstand 145-mph sustained winds, well above code requirements.
You enter the home through a deep and covered timber frame staircase or an elevator with an eight-foot-high cab. The residence features four large bedrooms, four-and-a-half baths, two gathering rooms with long, granite bars, a large fireplace, four porches and a large observation deck on the first and second levels, offering both privacy and optimal scenic views.
On the first level are a foyer, three bedrooms with spacious closets, three baths, a gathering room, a kitchenette, laundry facilities and two large porches. The second level includes a foyer, a massive and elegantly-appointed master suite, a generous gathering room with a stone fireplace, a designer kitchen with a large pantry and a nine-foot granite bar, a powder room, two timber-framed porches, a laundry area and stairs from the porch to the open upper deck. The home's ground level encompasses treated decks with space for outdoor dining and parking for electric golf carts –the only motorized transportation allowed on Dewees- a shower and two spacious cabinets.
In keeping with the principles of casually-elegant coastal living and design and construction tailored to endure potentially severe weather, the home includes a host of features targeting creature comforts and a partnership with the environment.
All cabinets are maple, and the floors are reclaimed heart pine and porcelain tile. Windows are of customized German-made Weru tilt-and-turn construction and exterior doors are of impact-resistant glass, providing warmth, comfort, security and peace of mind.
Tankless water heaters provide efficient, on-demand hot water. Interior walls are colored American clay, named Green Product of the Year in 2004 by the National Association of Home Builders. Exterior walls are structurally-insulated panels for strength and energy efficiency. The exterior siding is sustainably-harvested cypress, which requires no painting or staining, and the roof is a slate-like material with a 50-year transferable warranty.
There are Casablanca ceiling fans throughout, the high-volume air conditioning is geothermal and all appliances and plumbing fixtures are selected for their high energy efficiency. The home's monthly electric bill has never been more than $100.
The rustic island feel of the home's interior is emphasized by the massive exposed beams throughout. The wooden framing members are open to the interior and are connected by pegged mortise and tenon joinery, much like that found in fine furniture.
As Porretto put it, "Homes are intended to provide shelter and to keep people safe. Coastal homes I build are meant to do that well beyond the life of the mortgage for generations. Enduring, healthful and energy-efficient homes yield long-term payoffs through savings in maintenance, repairs and operation, and my homes provide a sense of comfort and beauty like no other."
Seeing a spectacular home such as 250 Old House Lane might convince Kermit the Frog that these days it's getting just a bit easier to be green. And he might even suggest that ecologically committed builders such as Porretto are bringing us all a few steps closer to a desirable condition referenced in another of his famous songs that place where rainbow connections are real.