Early inhabitants of the island were mainly wandering Sullivan's Island residents but by the 1940s, growth steadily increased, due in part to the sale of vacation homes on the island.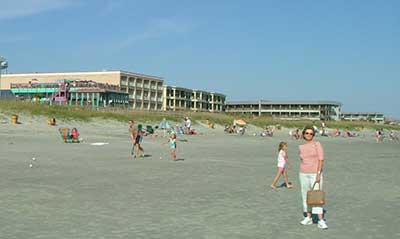 Isle of Palms, with its mild climate and recreation opportunities, is an ideal retirement area. The average temperature year round is 65º. The relaxing atmosphere of the beach is contrasted by the numerous recreational activities provided on the island. The Isle of Palms Park and Recreation Department offers aerobics, baseball, basketball, gymnastics, soccer, softball and tennis for residents.
Wild Dunes Resort provides another South Carolina necessity…golf. The resort's two courses, The Links and The Harbor Course, were designed by Tom Fazio. The Links ranks in the top 40 golf courses in the country. The Harbor Course is complete with holes following the Intracoastal Waterway.
Only 20 minutes from historic Charleston, Isle of Palms is close enough to enjoy the numerous activities that go on in the city.
The Charleston area is home to museums, theaters, art galleries and sports teams, in addition to 27 golf courses and over 100 shopping centers. The medical community of Charleston includes 10 hospitals and more than 16,000 employees. Isle of Palms has the convenience of a big city, with the coziness of a small town.
Wild Dunes, a prominent community on Isle of Palms, offers villas, homes and lots for sale and rent in addition ot the Wild Dunes resort. Isle of Palms also has several other neighborhoods. The homes on the island average $353,000. Goat Island, located next to Isle of Palms, is a secluded escape from the rush of the city. It is accessible only by boat from Isle of Palms, and houses on the market are rare.
Seniors contemplating retirement in the Charleston area should also consider the property tax benefits available. Local entities levy taxes on the public because South Carolina does not have a state property tax. The Homestead Exemption Tax absolves adults over 65 from county, municipal and school taxes for the first $20,000 of their homes. This is only available to seniors who have lived in South Carolina for one year. Property taxes for homes on Isle of Palms are estimated at $3,233.48. This rate is based on the state average of 229 mills.
Home owner's insurance varies with location and coverage. An average home on the island pays at least $1,184 in insurance. These are basic rates and do not take into consideration the nearness of homes to the beach or flood, hurricane or earthquake coverage.
Retirees are also allowed a $3,000 income tax deduction on all retirement income. Adults over 65 are eligible to receive a $10,000 deduction. The maximum for income tax rate is 7% for all income greater than $11,400. The state does not tax social security benefits.